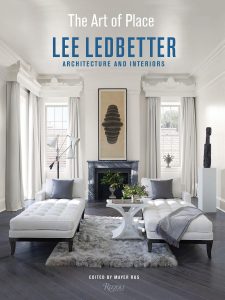 Lee Ledbetter is an architect and interior designer based in New Orleans whose commissions have ranged from restorations of French Quarter townhouses and the construction of modernist estates to the entry gates and pavilion of NOMA's Besthoff Sculpture Garden. His firm, Lee Ledbetter and Associates was founded in 1996. He  presents selections of his works in a newly published monograph, The Art of Place: Architecture and Interiors, which will be the focus of a lecture and book signing during Friday Nights at NOMA on October 18, starting at 6 pm in the museum's auditorium.
In the introduction to the book, Mayer Rus writes, "Lee Ledbetter's story is one of duality. A serious architect who maintains an unapologetic  passion for decorating, he is fluent in and respectful of both traditional and modern design idiom. … The myriad projects illustrated in this volume testify to the elasticity of Ledbetter's vision. Included are period-sensitive restorations of historic properties, ground-up houses that speak in contemporary dialects of traditional Southern design languages, startlingly modern structures, and graceful public works that pay homage to the past while celebrating the present."
In advance of his presentation at NOMA, Ledbetter spoke with NOMA Magazine.
Your work is known for blending the indoors with the outdoors. How did this style develop for you and what were your early influences?
I have had an interest in plants and gardens since childhood. My dad constructed a greenhouse for me, and I would spend hours there cultivating tropical plants. I also loved gardens, those in the city of Monroe where I grew up and also gardens I saw on my travels. Following my undergraduate architecture training at the University of Virginia, I spent a summer in Italy studying Italian Renaissance gardens and villas. I have always associated interior rooms with adjacent exterior spaces and believed that buildings should be "married" to their natural surroundings as a way of visually and programmatically extending a room beyond the exterior wall.
The Besthoff Sculpture Garden is among your commissions. How did you shape this space?
Our team at Lee Ledbetter and Associates worked closely with NOMA's director, Susan Taylor, and the museum staff, along with patrons Sydney and Walda Besthoff and with landscape architects Reed Hilderbrand to identify the most logical place on the 6.5 acre site for the new indoor sculpture pavilion. This resulted in an elliptical form that hugs the perimeter edge of the garden while creating a seamless interior space against which to view works of sculpture.
Much of your work is also defined by blending the historic with the contemporary. What is the running theme of your aesthetic vision in combining these elements?
Virtually all of our work is informed by a dialogue between old and new. This is obvious when working on a renovation within a nineteenth-entury envelope, but even our most contemporary structures are studies in Palladian or time-tested proportions and geometries.